The use of modular steel structure in the construction of the multi-level parking cum commercial development project Omaxe Chowk in Chandni Chowk is a game changer in the real estate sector. The steel structure will grant durability to the structure and help in expediting construction. For this, Omaxe has signed an agreement with India's leading steel company Jindal Steel and Power Ltd. (JSPL).
The agreement was signed in July 2019 and the supply of modular steel structures has started at the site and the installation work has also begun in all the three basements. The building structure has been supplied by JSPL in knocked down form at the site. JSPL will supply 7000-8000 metric tonne of structure steel.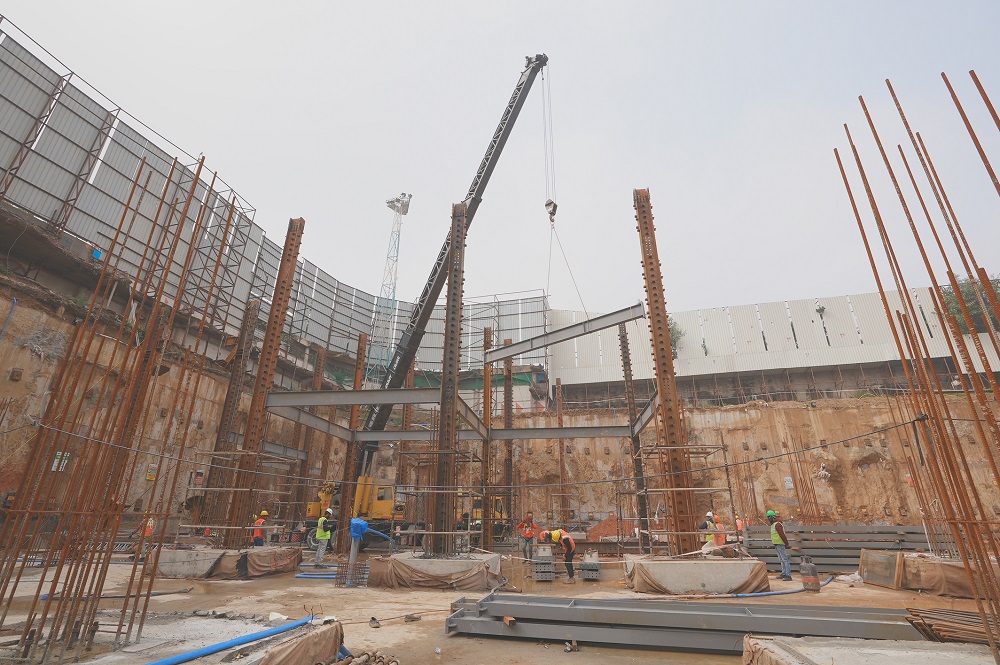 Omaxe Chowk is a multi-level parking cum commercial development project, being developed in PPP with North DMC. A part of the Chandni Chowk redevelopment project, Omaxe Chowk will accommodate 2100 car parks on five floors – three underground and 2 over the ground, with space for retail and food court. It has emerged as a one-stop solution for wedding shopping. On the ground floor is Jewel Court- the jewellery hub, on the first floor is Bridal Market and on the second floor is India's largest food capital with a seating capacity of 1600+.
The project was launched in October 2019.
The company is using advanced construction technologies in Omaxe Chowk. It has adopted a top-down construction method in order to reduce time. The stage 1 work on excavation, plain cement concrete (PCC), waterproofing and raft foundation have been completed. The D-walling of the complete site has also been done. The installation of a modular steel structure has started on all three basements.
The project will ease the traffic and parking woes at Asia's largest wholesale and retail hub Chandni Chowk. Spread across approx. 4.5 acres of land, the project will cater to the parking needs and enhanced shopping experience for lakhs of shop owners and customers visiting this market daily from all over the country.
The project is expected to bring 40 lakh shoppers every month.