The positive sentiments in India's real estate sector which began in October 2020, despite a minor blip in April-June 2021, continue unabated. Prevailing low home loan rates have played a major role in driving up demand for homes. In a real estate consumer survey by CII-Anarock, it was found that at least 82% of respondents consider low home loan rates as a major positive factor influencing their property purchase decision amid COVID-19.
Home seekers from Metro cities, tier 2/3 cities, and NRIs participated in this survey.
Since the coronavirus pandemic that locked people inside their homes in March 2020 and with restricted movement since then, home buying activities have increased online. The survey found that nearly 60% of the entire property buying process has now gone online as against 39% in the pre-COVID period. Among the online activities, 98% of people search property online as against 72% in pre-COVID era. 42% of the people prefer online property site visits now than 4% people in pre-COVID era.
Investor confidence in real estate has increased to 54% during the second wave from 48% in the first wave, the survey stated.
A good thing that has emerged, which also is a trend after every crisis, is that the fly-by-night operators are fast disappearing from the real estate scene. Consumer sentiments towards reputed developers have been in the making for the past few years and this has been reflected in the survey and in a more pronounced form.
"Developer credibility is another important attribute that consumers consider before zeroing in on a property. Nearly 77% of consumers voted in its favour," said the survey.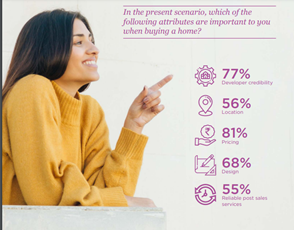 While pricing remains the most important attribute for selecting a property, 56% prefer location, 68% prefer design, and 55% prefer reliable post-sale service. It has also emerged that for 48% of millennial respondents, buying a home is their priority. "Millennials make up a large chunk of homebuyers today. The rising aspirations of this segment have given rise to the trend of smart or digitally enabled homes. "This trend is now not just confined to metro cities but has also seeped into state capitals and tier 2 and 3 cities," Siddharth Katyal, Group Director, Omaxe Ltd. had told Outlook magazine.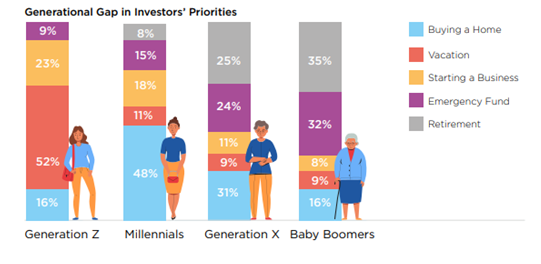 End-users dominate India's real estate market. "71% of respondents looking to buy a property are doing it for self-use while only 29% are looking at it from an investment perspective," the survey found.
And homes between Rs 45-90 lakhs remains most preferred. 2BHK homes remain in most demand followed by 3BHK. Designated walking trails and open green spaces are the amenities that have dominated the choice patterns of homebuyers.
"Besides the unprecedented demand in tier 2/3 cities, we are also seeing consumer needs evolve at a time when many people expected these markets to shrink. Buyers want more refined products, not just essential homes," Rajan Gupta, Vice President (Business Development & Corporate Strategy), Omaxe Ltd. told the Mint newspaper in an article published: Small town real estate gets a pandemic boost