It is a fact that the weather outside dictates our preferences on outings. That also explains why most people avoid the summer heat, stay home in their air-conditioned rooms, and take all of their trips in the winter.
Further, with the festive season knocking at the door, it's only natural that everyone would want to join in the festivities to make up for the lost time spent indoors, either working or avoiding crowds like the plague given the times that we live in.
Therefore, Omaxe World Street in Faridabad brings you the most enticing opportunities to get your sparkliest outfit out to join in the fun and games at the best places to celebrate new year in 2021.
Christmas and New Year Celebrations at Omaxe World Street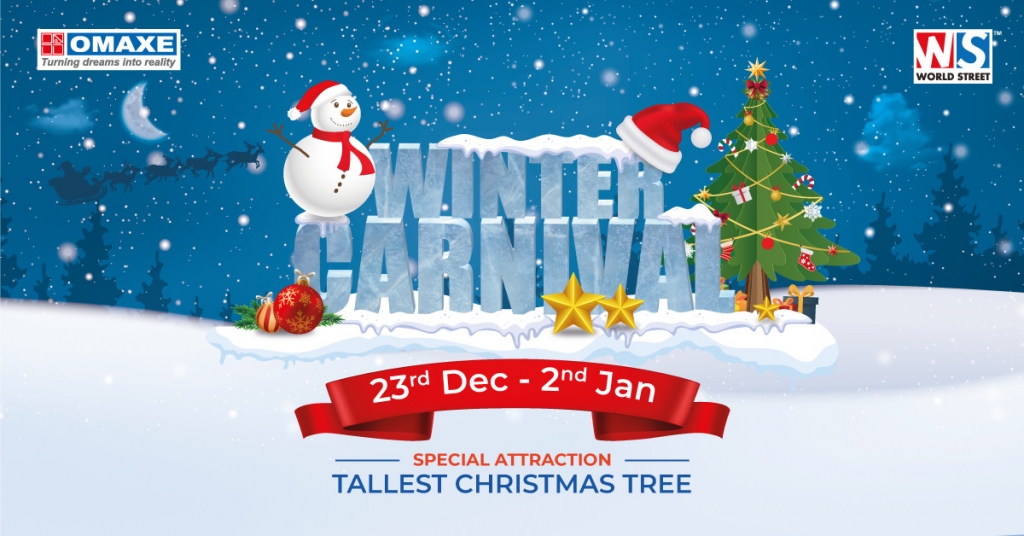 If you are looking at places to celebrate Christmas in Delhi NCR and then looking for places to celebrate new year in Delhi NCR – you are at the right location.
The Christmas and New Year Celebrations at the complex are a grand affair with all the best brand shops and amenities at your fingertips. It's a foodie's paradise and a techie's haven. With so much to explore, one will never run out of selections to choose from.
Just like there is someone for everyone in the world, there is something to do for everyone at Omaxe World Streets Christmas and New Year Celebrations of 2021. Filled with the joy and festivities of the holiday season, Omaxe World Street in Faridabad's Sector 79 is more than a shopping mall.
What's There to Do?
Among the most popular places in Delhi NCR for fun, food, entertainment, and shopping, it is a one-stop leisure shop that comes loaded with amenities and benefits. It is also among the best places to celebrate new year with family.
The primary attraction is the Biggest Christmas Tree of Delhi NCR this year. It is a spectacular structure with the most stunning decorations and fits right in with the festive vibe.
Event Itinerary:
✅ 23rd Dec – Musical Band
✅ 24th Dec – Mime Act, Christmas Carols
✅ 25th Dec – Santa Parade, The Bollywood Saga, Dance Troupe
✅ 26th Dec – Musical Band, Russian Rope Act
✅ 28th Dec – Musical Band
✅ 29th Dec – Musical Band
✅ 30th Dec – Tanoura Act, Fire Act
✅ 31st Dec – Musical Band, LED Act
✅ 1st Jan – Money Heist Parade, Zikrr The Band
✅ 2nd Jan – Laser Act, Dance Troupe
So join us for the World Street Christmas & New Year Carnival from December 23rd to January 2nd, 2022, and be a part of this magnificent extravaganza.
About Omaxe World Street
Several investors and new small business owners are interested in the commercial-cum-shopping area, which is why it is predicted to develop significantly in the years ahead.
The tranquil environment has excellent technology-assisted services with little vehicular traffic. It has a sprawling size of over 50 acres and is expected to grow in the future.
There are spaces available on different levels of the present compound. Some of the areas have a spectacular view of the neighbourhoods. Both the stunningly done interiors and exteriors of the establishment emulate modern influences along with a little hint of several global cities.
The space's costs are relatively reasonable for newly established enterprises wishing to invest less and generate greater cash flow. The business complex has a well-built power backup system and an around-the-clock security system. The infrastructure is intended primarily with low maintenance in mind.