for homebuyers
The COVID-19 has shifted homebuyers preference and how! In the last one year, the demand for homes in State Capitals and tier 2/3 cities has grown exponentially owing to the reverse migration. The pandemic-induced lockdown forced young professionals to shift to their hometown due to Work from Home implemented by several corporates. Besides, necessity to own a home, demand for bigger space, cost-effective home in these cities, demand for large open & green spaces with amenities in townships etc. were other reasons why homebuyers opted for these cities.
In Housing.com's Indian Residential Index for Online Search (IRIS), an index that tracks homebuyers' activity across 42 cities, Ludhiana and Amritsar made a massive jump of 4 points each in June 2021 from May at 6 and 14 respectively. Delhi-NCR clinched the top spot. Jaipur & Lucknow entered the top 20 at 18 & 20 respectively.
In 2005, Omaxe, a BSE & NSE listed company, made inroads into State Capitals and tier 2/3 cities; and in the last 16 years, it has cemented its first-mover advantage into a leadership position. In Ludhiana, the company has operationalized a part and is executing the remaining part of the integrated township Omaxe Royal Residency on Pakhowal Road and in Amritsar, the company has two commercial Malls.
The overall index rose 9 points in June 2021 but remained 18 points below the peak in September 2020.
As suggested by IRIS trends, the demand in Tier 2 cities has recovered more quickly than in the top-eight cities, demonstrating resilience during the pandemic.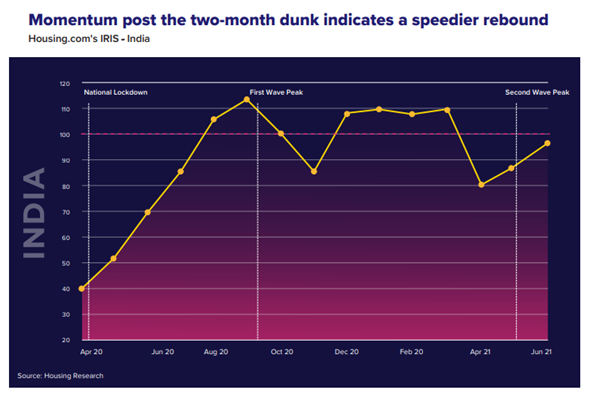 Delhi-NCR clinched the top spot in June 2021 from Mumbai which ranked 2.
In Delhi, the company is executing a multi-level parking cum commercial project Omaxe Chowk in PPP with North MCD in Chandni Chowk.
The company is committed to the operationalization of parking in 2022.
"The construction is progressing at a great speed. We are committed to the commencement of multi-level parking before the deadline in order to ease the movement of people and goods in Chandni Chowk," said Mr. Shravan Govil, CEO, Omaxe Heritage Pvt. Ltd. (100% subsidiary of Omaxe Ltd.).
In Delhi-NCR, Gr. Noida & Faridabad saw maximum online traction in June 2021.
In Faridabad, Omaxe has operationalized themed high street Omaxe World Street and is undertaking construction of mall, office space and an apartment & penthouse. The Delhi-Mumbai Expressway is a 5 min walk from the project.