A commercial real estate lease is a contract between a tenant and a landlord; each one has specific terms, conditions, and features that are negotiated before it is signed. However, new and inexperienced business owners quickly discover that going through a commercial leasing process can be a challenging and drawn-out process, particularly if you're doing business in a cutthroat city or industry. This is true even before the ink is dry and you start calling moving companies.
In order to find the ideal place to make the Commercial Property Investment that meets your company's needs and your budget, you must be prepared to handle every aspect of the entire process from beginning to end.
What is the Commercial Leasing Process?
A commercial property leasing process is the process of lending a premise on a lease. It involves two parties: a landlord and a tenant.. The leasing process typically starts with identifying the needs of business and looking out for property that can optimally fulfil them. The next step is to search for the property and approach the  landlord of the suitable one. After this, you can schedule a property viewing to assess the property and move ahead.
If you are interested in the property, you can move to drafting a letter of intent. This letter expresses the interest of the tenant and also includes the lease terms. The landlord and the tenant can further negotiate the terms and conditions and finalise the lease amount. If both parties agree, a lease agreement can be formed and signed to seal the deal. It is essential to carefully read all the documents related to commercial property leasing. Want to know: Leasing vs. Buying commercial property: which is a better option? Read on for more.
Things to know before signing a commercial lease:
Assess the business requirements such as location, space size, amenities, parking facility or any specific industry-related considerations.
Conduct thorough market research to understand current rental rates, trends, and availability in your desired area.
Determine your budget for leasing commercial space. Consider all the elements like maintenance bills, security charges etc.
Consider working with a knowledgeable commercial real estate agent who specialises in commercial property leasing.
Visit potential properties to evaluate their suitability for your business. Carefully evaluate the premise based on the time taken to commute, transportation available and much more. 
Carefully review all lease terms and conditions. Pay attention to clauses regarding rent, lease duration, renewal options, maintenance responsibilities, alterations. Also check the termination clause before signing the commercial lease.
Consult a professional and qualified attorney having specialisation in commercial real estate and property leasing.
Before finalizing the lease, conduct due diligence to ensure that the property complies with all zoning and building regulations.
9 Steps to Navigate the Commercial Leasing Process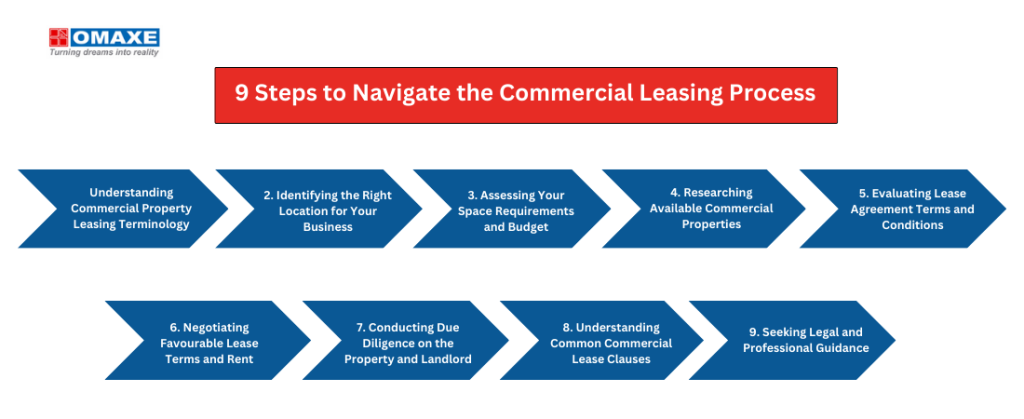 1. Understanding Commercial Property Leasing Terminology
Understanding the occasionally confusing terminology of your contract is essential, whether you're negotiating the terms of your Commercial leasing process or trying to get a better idea of the total costs you're about to assume.
Despite the fact that it's always best to have your lawyer review your contract, preferably one with experience in commercial real estate, the following are some of the more comn clauses you should be aware of before you sign.
1. Accidental costs
2. Maintenance of common areas
3. Gross rent leasing
4. Renegotiated gross lease
5. Net Lease
6. The allowance for tenant improvements
2. Identifying the Right Location for Your Business
You probably don't want to choose a location for your business in a city's industrial district or in a new development if it depends on foot traffic. To ensure maximum visibility, high-profile companies should always look into a city's business or financial districts. However, to increase options and affordability, smaller companies or those using warehouse space should also look outside the city centre. Driving around your market and dialling the listing agents of the homes that meet your requirements are two methods of searching for space. The drawback to this strategy is that until you call, you won't be aware of the property's details or the asking price.
You could also hire a tenant representative as an additional option for the Commercial leasing process. They are able to present you with the options on the market in the areas and price ranges you desire. You can then take a look at your top choices and decide which property best suits your company's needs after touring them.
3. Assessing Your Space Requirements and Budget
Your need for a specific kind of space will depend on the kind of goods or services you offer. Industrial, retail, and office spaces are just a few of the various kinds of commercial real estate that you look into for Commercial Property Investment. It can be useful to become familiar with the different types before you start your search. 
The lease rate per square foot, utilities, additional tenant improvements that are amortised into the rent, and yearly rental increases as specified in your lease are just a few of the factors that will affect your monthly rent. For more information, refer to the professionals on Rent Calculation and Lease Types.
Also Read: Things to keep in mind when Renting Your Property
4. Researching Available Commercial Properties
Be flexible as you begin the Commercial leasing process. Your initial assumptions regarding the locations, types of spaces, and rent might have been irrational and would need to be revised. Your best options will be explained to you by a good agent as well as the market.
Perhaps you should broaden your search or change your spending plan. For instance, a more remote area might have more affordable rent. You might also think about renting a bigger space than you require and then subleasing some of it to help with rent. (If you do this, confirm that your lease permits subleasing.)
5. Evaluating Lease Agreement Terms and Conditions
It's time to choose your top properties and start the negotiation process after you've identified a number of potential properties, performed walkthroughs, and learned more about the lease terms associated with each property. Requesting written copies of each version of the terms from your broker is crucial. The landlord or their real estate broker should receive a business letter of intent for each follow-up offer or counteroffer. The key to successful negotiation is setting priorities for your must-have, medium-priority, and low-priority features, benefits, or terms.
6. Negotiating Favourable Lease Terms and Rent
Don't just accept the landlord's offer of a lease once you've found a promising location. The terms of a lease can typically be discussed. Learn about all of your expenses, including ancillary costs like property tax, insurance, utilities, and maintenance, before you sign anything. A few months of free rent or assistance with the cost of leasehold improvements are just a few examples of tenant inducements you can request from your landlord.
Discussing leasehold improvements in the Commercial leasing process is also important. Can you, for instance, install equipment or construct an additional bathroom? Establish who will be responsible for the improvements after you leave. Unless otherwise stated in the lease, anything attached to the building usually becomes the property of the landlord, meaning you aren't allowed to take it with you when you move out.
7. Conducting Due Diligence on the Property and Landlord
Business owners who don't do their homework before leasing a property often end up signing a lease that interferes with their daily operations. For instance, some landlords are dishonest and don't behave fairly when leasing a property. Many landlords rent out properties that are undergoing foreclosure, and some of them have very bad relationships with their current tenants. Prospective tenants of commercial real estate are helped by due diligence to avoid needless disputes and difficulties when they move into their new office space.
Furthermore, doing your homework before renting a property enables tenants to learn just as much about it as the landlord does. When negotiating with the property owner, this puts them in a stronger position. Additionally, when conducting their due diligence, business owners can discover information that will help them bargain more favourable terms.
8. Understanding Common Commercial Lease Clauses
Commercial leases are extensive documents that can be difficult to read, but it's crucial that you do so to make sure you comprehend the terms of the agreement during the leasing process. Pay close attention to the following important clauses in particular:
The Rent Escalation Clause
The majority of commercial leases contain a rent escalation clause that specifies how and when your rent will rise during the lease's term.
You can transfer all or a portion of your space to another tenant thanks to a sublease clause.
Use and Exclusive Use Clauses
You can only use your space in accordance with the terms of your lease's use clause. Your ability to conduct certain business lines may be constrained, your office hours may be prescribed, and any signage for advertisements allowed on the property may be subject to limitations.
The clause for improvements and modifications
In this section of a lease, it is specified what improvements will be made to an office before your business moves in and who will be responsible for the associated costs.
The renewal clause details how to extend your lease at the end of the term.
9. Seeking Legal and Professional Guidance
You should consider whether you require professional assistance before getting too far into your Commercial leasing process. In order to find the best option for you and your business's needs, it can be very helpful to have a seasoned commercial real estate broker who specialises in tenant representation assist you during your search and negotiations. Considering that the tenant rep broker's fee is deducted from the final lease payment, hiring them can only be advantageous for you.
Conclusion:
Your ideal commercial real estate space is probably a lease if you're a small business expanding, moving into a larger space, or needing more room for your operations. Purchasing real estate outright can be a more appealing option if you've expanded into a multimillion-dollar business or need very specific features in your company's buildings – provided you can afford a significantly higher initial cost and are eager to anticipate routine upgrades, and maintenance, and property taxes, and utility costs.
You can now begin the process: the actual search for commercial property in Delhi, as you have a better understanding of the intricate world of commercial real estate leases. Finding the ideal fit for you and your business should be a fun and exciting adventure with so many amazing options available like Omaxe in the modern commercial market.
FAQ's
How do leases work on commercial property?
The commercial property is given on lease for a specific period. The agreement states the tenure of the lease. A lease agreement must be signed by both the parties (Landlord and tenant) to complete the leasing process.
What is the normal term for a commercial lease?
The normal term for a commercial lease depends upon a number of factors. Generally commercial property are given on lease for more time. It usually ranges from three to ten years. However, this may vary depending upon the property owner.
What is the difference between lease and rent?
The major difference between rent and lease is the time duration for which the property is rented/leased. Rent agreement is a short term agreement whereas, lease agreement is a long term agreement.