Time has a wonderful way of showing us what really matters. The lockdown induced by the COVID-19 pandemic across the world made everyone realise that there is nothing more precious and safe than one's own home. Those in rented accommodations are purchasing a home of their own while those staying in their own home are aspiring to own bigger homes with safety features and new-age amenities.
Homes are being viewed and perceived differently in urban settings today and what used to be luxury amenities and facilities are slowly becoming a necessity.
The developments of the last few months have accelerated the ongoing shift in demand that was being witnessed in real estate investment in Tier 2/3 cities. Cities like Lucknow, New Chandigarh, Indore, Faridabad, Ludhiana, etc. are seeing huge demand for homes for a variety of reasons, ranging from price differentials, work from home, the demand for bigger homes, the evolving potential of these cities, etc.
If we consider one of the finest and most planned urban cities in India – Chandigarh, the peripheries that have majorly driven demand for real estate like Panchkula, Mohali, Zirakpur, and New Chandigarh are also witnessing a dramatic shift in taste and preferences.
In New Chandigarh, for example, where new-age infrastructure is being developed, the demand for homes is quite distinct, with independent floors in a secured, safe, and walk-to-everything township becoming a preferred choice: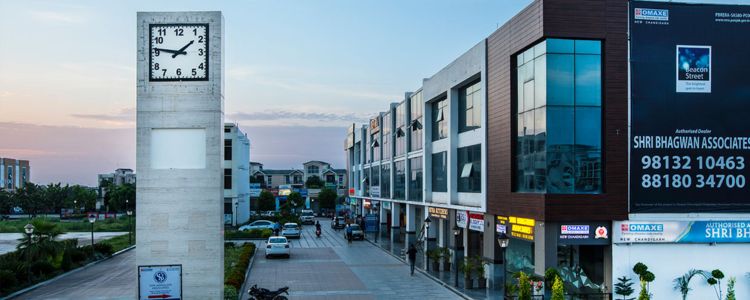 Top 10 Reasons to Invest in New Chandigarh Property Market
1. Ideal Location for a prospering household
New Chandigarh is the first eco-city of Punjab, located south of the Shivalik range. It is seamlessly connected to Chandigarh's prime roads Madhya Marg & Dakshin Marg, where all social and commercial sectors such as Sector 17, 11,14, 15, 22, 18 etc. are present. The authorities have also proposed a Metro station for easy commute of the residents. New Chandigarh already boasts of wider and congestion-free roads and the coming times, it shall have a wide network of roads which will makes movement and accessibility easy.
2. New Chandigarh is the hub of development
The planning and architecture of New Chandigarh has been done in a manner that all non-polluting industries like IT and hospitals will be located here. A 1700 acres proposed Education city (Knowledge Zone) will be the highlight of the area, envisaging a modern learning destination in Punjab. Some of the renowned names entering the region in healthcare sector are Tata Memorial Centre's cancer hospital & research centre.
3.New age developments
All the nearby developments, such as road and other social infrastructures will be developed via new technologies and hence will last longer. New Chandigarh region is set to become the most desirable address in the state of Punjab. Due to its proximity to main city and the plethora of opportunities available here, job opportunities will be immense and that will drive the demand for homes.
Also Read: Smaller Cities Smarter Choice
4.Self-Sustainable city
The authorities and industry players entering this area have strategized a full-fledged growth plan for the residents. As the population begins to rise here, IT parks and other industries have strong potential to make the population residing self -sustainable, with a range of job profiles available. A sphere of robust development is about to be created to fuel growth of the inhabitants here. Townships by several builders including Omaxe New Chandigarh promises residents new age lifestyle.
5.Integrated township – a wholesale living
Integrated townships are fast evolving as the most preferred options owing to the constrained living it offers where everything is just a walk away. The recent developments have taught the importance of having everything close to one's abode – be it medical and commercial facilities, recreation and office spaces. Omaxe New Chandigarh is a city of tomorrow which offers everything at a walking distance from your address.
6.Independent Floors for independent millennial
Independent Floors are fast catching up due to the independence and low density living it promises where one can unwind in the comfort and convenience. Omaxe Celestia Royal Premier offers a range of amenities. Ideally, Independent Floors with configurations such as 3 BHK luxury apartments in Chandigarh are a fruitful investment for creating a future asset.
Not just the independence of living it provides but also a higher return on investment as the opportunities for future growth in New Chandigarh is nothing short of unprecedented. NRI investors and end-users are always on the lookout for such properties in India that give them an experience similar to foreign lands. Omaxe Celestia Royal Premier is a perfect fit for those desirous of a tasteful lifestyle.
7.Bond with nature
Omaxe New Chandigarh has beautiful fountains, artificial water body and plenty of open and green spaces. It is one of the few inhabited townships with families residing and experiencing the facilities and amenities of the township. It has an abundance of greenery with many gardens based on different themes. Demarcated jogging & walking tracks, Open gymnasium, Sit outs will be at every step encouraging the residents to take care of their fitness and health.
8.Best destination for Sports enthusiasts
Omaxe Celestia Royal Premier offers more than any conventionally constructed 3 BHK luxury apartment in Chandigarh. It is adjacent to the upcoming International Cricket Stadium, allowing sports fans to immerse themselves in the energy and vibe of newly established sports arenas.
9.Range of Amenities available in New Chandigarh
The project offers several amenities for its residents, to begin with, lush natural green surroundings, an open gym for kids, a swimming pool, a fully equipped gym and spa, a children's play area, a designated wide car parking area, and gardens for practising yoga and meditation. Additionally, for kids to learn and grow, a skating ground, basketball court, badminton court, and tennis court are also available. The project is equipped with a well-managed security cover with a 24-hour security system installed, CCTV, and is also earthquake-resistant.
Do you know that investing in real estate in Chandigarh is a profitable deal? Read to learn more.
10.Legacy of Omaxe
Omaxe has been involved in developing a wide variety of residential and commercial establishments across India and occupies a dominant position in Punjab. With a plethora of offerings in the residential and commercial space in Omaxe New Chandigarh, a homebuyer is spoilt for choice when it comes to choosing his dream home according to his budget