On September 30, Wrestler Bajrang Punia, who won a bronze medal at the recently held Tokyo Olympics, visited Omaxe Chowk – the multilevel parking cum commercial project site in Chandni Chowk. It aims to give a facelift to the area and decongest the region, reduce environment pollution, improve aesthetics and enhance the glory of Chandni Chowk.
Mr. Shravan Kumar Govil, CEO, Omaxe Heritage Pvt Ltd, a 100 per cent subsidiary of Omaxe Ltd. was present at the site to welcome and honour Shri Punia.
"He (Punia) has not only made our country proud many times but also become an inspiration for millions of youths who are aspiring to serve the country in the field of sports," he said.
'Omaxe Chowk' is next-generation multi-level parking-cum-commercial project that will give a facelift to Chandni Chowk, one of India's oldest and busiest wholesale and retail markets. The one-stop shopping, food and tourism destination will herald modernisation of the region while enriching its historical and architectural presence.
The Indian express reported on October 3 that the construction of the multilevel parking, which is expected to accommodate over 2,100 cars and 81 tourist buses, has gained pace significantly and will be operational by March 2022.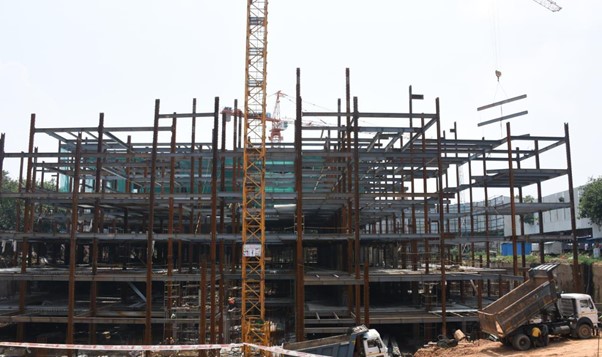 (Actual picture of the construction of multilevel parking cum commercial project in Chandni Chowk)

"The work on the project had been divided into three phases. Currently, work has started on the Phase 1 Plaza," the newspaper quoted officials involved in the project.
In Phase 2, 80 per cent of the erection work has been completed. Under Phase 3, 50 per cent of the erection work on the ground floor and excavation work has been completed.
Besides parking, the project also comprises retail spaces and a food court. There will be three underground and two floors above. Three floors will be dedicated to food and retail. Omaxe has also signed a memorandum of understanding with Honeywell Automation for supply and installation of air purification systems. Omaxe Chowk will be first mall to have a centralised air filtration system, which will make efforts to keep AQI below 50.