The real estate market is slowly and steadily booming and going high. This is great news for both real estate developers as well as property buyers. Especially in Delhi, this can be great news, when you are thinking of investing in property in Delhi NCR regions too. Sometimes different regions can be a negative investment scenario if you don't take proper research into account. Let's find out if you should be doing investment in Delhi property the right way.
Table of Content:
1. Different property regions in Delhi and Delhi NCR 
2. Market analysis for Delhi real estate investment
3. Pros and Cons of Investing in Delhi Property 
4. Delhi NCR: A Challenging but Rewarding Market for Property Investors
5. FAQs
Different property regions in Delhi and Delhi NCR
Whether you are investing your proper sum in Delhi or the National Capital Region, you have to take into account many factors that can positively impact your financial investment in the future. Let's look at different areas of Delhi and what are the different sectors affecting it.
The Delhi Region is divided into different areas that come under different Municipal Corporations and Delhi Cantonment Board. The main Municipal corporations that control the property aspects in Real estate in Delhi are:
North Delhi Municipal Corporation
South Delhi Municipal Corporation
East Delhi Municipal Corporation
And NDMC (New Delhi municipal Corporation)
Different Areas in NCR
The finalisation of the NCR region includes around 24 districts neighboring Delhi from the different states like Uttar Pradesh, Haryana & Rajasthan.
The areas in Delhi and specifically the NCR region will get special treatment from the center of Delhi and have great investment potential in the real estate sector.
Market analysis for Delhi real estate investment
The Delhi Real estate is growing at a rapid pace and these are the expected positive trends in the real estate sector:
It's expected that till 2030, the real estate sector will grow by USD 1 Trillion from USD 200 Billion in 2022.
Delhi and NCR region has become a hotbed for residential, office, retail and industrial areas., with great demand and supply dynamics.
The real estate sector has grown significantly in 2023 with the mid-level segment growing by 49% and luxury or high end segment growing by 36%
The real estate market now is highly regularized by the entrance of RERA and its regulations. This led to better buyer and seller trust factor and fraud prevention.
The 2022 was a great year and the 2023 and 2024 will be booming years for the real estate sector in Delhi NCR.
Pros and Cons of Investing in Delhi Property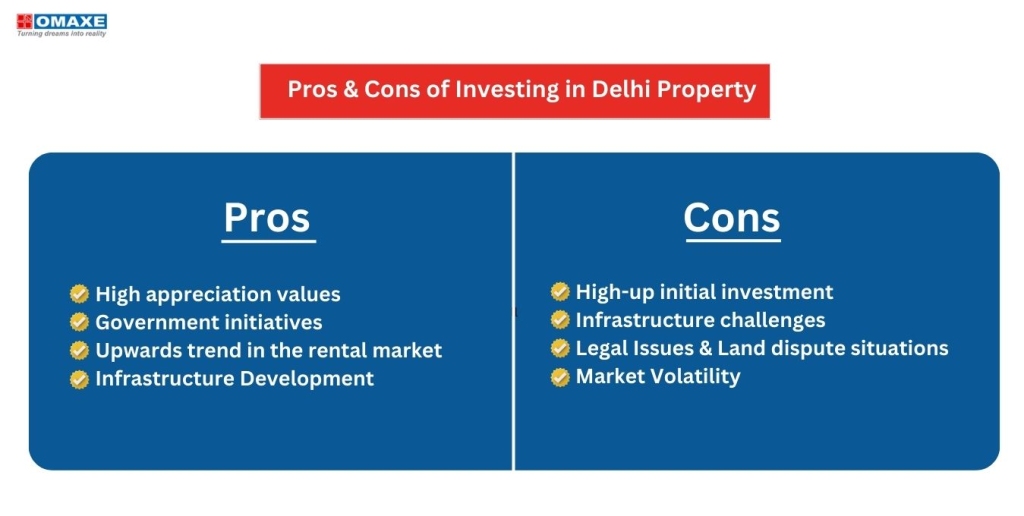 So what are the basic pros and cons of investing in Delhi Property? Let's take a look at that: 
We will start with the pros or advantages of Investigating in a Delhi property.
Pros or advantages of Investing in Delhi Property
While there are many challenges to investing in Delhi real estate in terms of both commercial and residential properties, there are many positive aspects to it as well, that can further add to the pros of investing in both commercial as well as residential property in Delhi. Let's start with that:
High appreciation values – With being the main hub for business and being the national Capital along with the surrounding NCR region, the property rates have been rising over the years, some areas have seen an annual rise in property costs of about 10%. This can be a significant factor for both commercial property investment in Delhi or residential property investment as well if you take into account the future account of investing and selling the property in the future.
Government initiatives – Different state governments introduce further schemes to promote better investments in their state. Delhi or nearby NCR areas are no different, specifically, the location advantages of Delhi properties are huge when you consider the schemes the government provides. One of the policies is Delhi Land Pooling Policy. This is a great policy for residential investors and helps to promote residential private estate builders to participate in projects to promote smart city infrastructures and plans like Pradhan Mantri Awas Yojna and much more.
Along with the implementation of RERA, the real estate market is fully scrutinized for any fraud situation, thus creating safe investment practices in Delhi real estate.
Upwards trend in the rental market – From being the hub and being the national capital of India, Delhi attracts people from all over India. This has created a great positive trend in the high rental market that's a highly lucrative value proposition for property investment in Delhi.
Property investment today can produce great return opportunities for the future if you do investment in properties today. The areas that are specifically booming are Dwarka, South Delhi or Gurugram, etc.
Infrastructure Development – There is a great positive side too when we talk about infrastructure development in Delhi NCR. With the great connectivity from Delhi Metro and further development of new flyovers and highways and further improvements in airways and airports, the connectivity has further strengthened in the city, thus creating further investment opportunities, especially in Real estate in Delhi.
Disadvantages of Investing in Delhi Property
High-up initial investment – Considered one of the most expensive real estate markets, the Delhi real estate prices in certain areas like in the NCR region of Gurgaon or South Delhi are exorbitantly high. This can cause the investors to have a huge initial investment planned up and prepared to invest in these regions.
Further stressing the investment scenario, there are certain costs like labor and development costs, that have gone way high in these areas, making the investment tough. Make sure if you are in Investing in Delhi real estate in these areas, then consider all the costs before any investment.
Infrastructure challenges – In recent years, the infrastructure in Delhi has improved, but still there are many issues arising in it as well. The main issues that can further be arising due to it are traffic issues like congestion, improper facilities for public transportation, along with major challenges in vehicle parking situations. This can cause problems of lower rental scenario, further making it very inadequate to invest and get proper ROI on Delhi property investment
Further creating challenges is the issue of pollution, rising levels of air pollution in Delhi are creating a scenario, where the impact of pollution will soon affect real estate and thus it can be one of the major risks of investing in Delhi property.
Legal Issues & Land dispute situations – A major reason that causes risks of investing in Delhi property are the legal issues and land disputes on different properties in Delhi, which can cause heavy cost overruns due to legal issue delays.
Situations with legal issues can cause further problems in the future as well. Investors need to have proper diligence before investing in properties in Delhi and should know that the property is not in any legal dispute or have all the clearances from the necessary regulatory bodies.
Market Volatility – The Market analysis for Delhi real estate investment shows that the real estate market is highly volatile due to many factors affecting it. One of the significant factors that can cause this instability is a region or nation's economic factors or economic slowdowns or policy changes.
The investment scenario is way better than some time ago because of better infrastructure and better connectivity.
Delhi NCR: A Challenging but Rewarding Market for Property Investors
Lastly, Property investment in Delhi NCR has many challenges, that can cause major issues in the future, but at the same time, if you can research and be diligent about the property situation in Delhi, then you can yield great returns and there's a lot of potential growth in the Delhi and the NCR region.
At Omaxe, we provide a great opportunity for you to invest in Delhi NCR properties. We believe in turning dreams into reality and we welcome you to invest with Omaxe.
FAQs
Q.1 Why should I consider investing in Delhi property?
Ans: Delhi NCR has great investment potential whether you are thinking from a residential point of view or just better revenue point of view. The Booming real estate market is a true hotbed for great investment and return potential in the near future.
Q.2 What are the current trends in Delhi's real estate market?
Ans. The Current trends indicate that the real estate market is booming with the Residential sector growing 49% in the mid-size housing space and the high end and luxury segment growing by 36 % according to the latest Q1 research reports.
This is the optimum time to invest in Delhi real estate.
Q. 3 Can I invest in Delhi property if I am a non-resident Indian (NRI)?
Ans. Yes, you can invest in Delhi property if you are a Non resident Indian. But you have to keep some points in perspective:
The transaction needs to be done by Indian banks and Indian Currency. A Proper NRI account should be there.
You are not allowed to purchase Plantation property, agricultural land or farm houses. You can inherit them from resident Indian citizens.
You can also avail home loans from Indian banks.