The demand for duplex homes in Bhiwadi is increasing. Omaxe is considered as the best builder for villas in Bhiwadi. Omaxe is investing in different projects like Omaxe Panorama City. Beautiful duplex homes in Omaxe Panorama City, an integrated complex, are available for immediate occupancy. The Omaxe Panorama City-Villas is situated on Dharuhera-Sohna Road in Bhiwadi.
Omaxe Panorama City-Villas is a 100-square-yard development that provides 2 and 3-bedroom duplex villas. This project comes with modern designs for a contemporary lifestyle. Residents of Omaxe Panorama City-Villas may have a wonderful stay. It is a smart investment option with affordable houses, gorgeous villas, plots, and enhanced amenities in the townhouse.
Table of content
The luxurious nature of the 2 BHK and 3 BHK duplex villas
Omaxe Panorama City comes with 2 and 3-bedroom duplex homes. With its superb architecture and facilities, the project will suit your modern lifestyle. Residents may enjoy their time at home because the township provides outstanding facilities. Because of the closeness to Gurgaon and two major roads, Omaxe villas in Bhiwadi are in great demand. Now due to this more people are looking for 3 BHK villas for rent in Bhiwadi.
Villas in the region range in size from 950 to 1530 square feet. They come with appealing amenities such as great communication connection, play area for kids, enhanced security, and recreation facilities. This property is an inviting destination for hassle-free living.
The Charm of Duplex Villas in Bhiwadi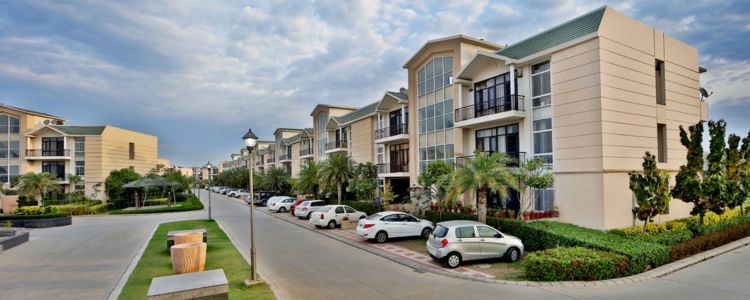 1. Rent is usually less expensive.
If you want to rent out an entire house but discover that it's out of your price range, a duplex might be a perfect alternative for you. When you rent a duplex, you get the experience of living in a house without the high cost.
2. Located in residential areas
Many duplexes and Villas in Bhiwadi are available in popular neighbourhoods that are more residential in nature. If you enjoy living in a very urban, fast-paced environment, a duplex is not for you. But, if you prefer to live in a more tranquil neighborhood with plenty of green space, a duplex may be the answer. Omaxe offers you such ease of living in Duplex.
3. Dual living areas provide versatility.
Duplexes allow for greater property options. You may turn it into a single-family house, live with a joint family, or rent out both apartments for revenue.
Location Advantage: Bhiwadi
Farrukh Nagar Fort is a popular tourist destination near Bhiwadi. Sultanpur Bird Sanctuary is located in Sultanpur hamlet, approximately 44 km from Bhiwadi. This park is well-known for its migratory and permanent birds. It has over 250 different kinds of birds. This location provides a much-needed respite from the hustle and bustle of metropolitan life.
Vijay Mandir Palace is Maharaja Jai Singh's royal residence, located around 88 km from Bhiwadi. Maharaja Jai Singh built the palace, which is flanked by beautiful green gardens and a charming lake. A lovely Sita Ram Temple is located inside the royal complex and is frequently visited by devotees and visitors alike.
Manesar, an industrial town in Gurugram, is about 29 km from Bhiwadi. Manesar is well-known for many big brand factories like Maruti. It also has heritage sites and resorts that are ideal for weekend excursions.
Alwar is only 90 km from Bhiwadi and is well-known for its forts, gardens, lakes, and castles, making it an ideal weekend retreat.
Omaxe Panorama City Villas Unique Features
Omaxe Panorama offers modern luxury. It is built for those who value calm and freshness in their lives. Accept the enormous amount of green space that surrounds the mansions. Allow your kids to grow up in the natural environment.
With all the necessary utilities within your living space, you will enjoy the superb quality of life. The residents will get a green environment, a huge kid's play area, and excellent connectivity. Indulge in an active lifestyle, beautiful gardens, and gorgeous parks offered by Omaxe. The independent villas in Bhiwadi definitely represent a new level and lifestyle.
Also Read: What To Expect In A Luxury Apartment?
Luxurious Living Spaces
As you enter, you'll be greeted with vast living rooms decorated with modern furnishings and a soothing colour palette. The open-concept kitchen is an exquisite paradise. With high-end appliances and designer finishes will enhance the art of cooking. Each bedroom is a personal retreat. It comes with luxurious carpeting, big windows to let in natural light, and en-suite bathrooms with high-end furnishings.
These Villas in Bhiwadi have elegant facades, generously scaled balconies, and private gardens merged into the natural surroundings characterise these architectural wonders. These villas are aesthetically very beautiful. They are also structurally superior, revolutionising the idea of curb appeal.
Also Read: Apartment vs. Independent House: Which Offers the Best Lifestyle?
Investment Potential
Panorama City's strategic placement attracts both professionals and families looking for high-quality life. It will also provide good opportunities for earning rental income. The villas' sophisticated architectural style comes with lush surroundings and is supplemented by luxury facilities. It increases their attractiveness to both residents and potential investors, ensuring a positive return on investment. Don't miss out on the chance to own a magnificent house in this fast rising metropolis.

Conclusion
Omaxe Panorama City offers the best Villas in Bhiwadi. It is an integrated complex in Bhiwadi, offering beautiful duplex homes with 2 and 3 bedroom layouts. It offers amenities such as a clubhouse, swimming pool, manicured gardens, fitness centre, children's play area, and round-the-clock security. The villas are designed to suit the modern lifestyle and are in great demand due to their proximity to Gurgaon and two major roads.
Duplexes and Villas in Bhiwadi offer a more affordable option for those looking for a tranquil, green environment. It is a wise decision to invest in a panorama city duplex.
FAQ's
What are duplex villas?
Duplex villas are residential homes with two different storeys that are typically constructed to seem like independent residences. They provide the privacy of a solo house as well as the convenience of a multi-level layout.
Where is Panorama City located in Bhiwadi?
Panorama City is located in Bhiwadi, India, an expanding industrial and residential centre in Rajasthan's Alwar region.
What amenities does Panorama City offer?
Panorama City has a clubhouse, swimming pool, manicured gardens, fitness centre, children's play area, and round-the-clock security to ensure a comfortable and secure living experience.
Are there different villa sizes available?
Panorama City offers 2 and 3 bedroom duplex villas to accommodate a variety of preference and family sizes.
What's nearby, like schools and hospitals?
The property is located in close proximity to prestigious educational institutions, colleges, and healthcare facilities, ensuring residents easy access to quality education and medical services.
Is Panorama City suitable for families and individuals?
Panorama metropolis is an excellent alternative for both families and individuals looking for a safe and lavish living environment enhanced with modern facilities in Bhiwadi's growing metropolis.
How can I book a villa in Panorama City?
To secure a villa in Panorama City, contact our sales staff or visit our official website Omaxe for more information and to begin the booking process.